Bulletin Message
Recently, we attended one of the Cell Group's Zoom meeting and they were having a Bible Study on the Book of Revelation and Living in the End Times. It was an excellent session and we would like to share a simple truth gleaned from that study.
The Book of Revelation is the last book of the Bible. Its contents fascinated me even when I was a non-believer in my late teens. It did its part in drawing me to Christ. With its vivid imagery of disaster and suffering - the Battle of Armageddon, the Four Horsemen of the Apocalypse, the Seven Seals, the hideous Beast, the Seven Bowls of God's Wrath - many have seen it as a map to the end of the world. It also held the Good News of the Second Coming of Christ. But it does requires a response to an invitation from the Book's central character. Read Revelation 3:20 to find out more.
Revelation is an apocalyptic prophecy given to the Apostle John and for him to write down what he is allowed to reveal from what he sees in his vision. It is directed to the seven churches in the Roman province of Asia then, and to all of us Christians today. "Apocalypse" means the revealing of divine mysteries.
One of the members of the group asked the question, "why do we need to know about what is written in Revelation when we are likely not going to be there? " Indeed there are many mysteries in the Book of Revelation, and the most intriguing, is also an important truth, - didn't Paul write in 1 Thessalonians 4:15–17, that the church is promised reprieve from such wrath, and the "Rapture" as the means by which we are protected?"
As believers, we thank God for His provision in granting us the victory, but we should not stop at that. We need to understand that besides the final victory, the Book of Revelation, is also a call to repentance and a warning of the disastrous consequences for those who do not know Christ our Lord. If we do not want our loved ones or friends to suffer those consequences, shouldn't we do our part to proliferate Christ's invitation mentioned in Revelation 3:20 to all our loved ones and many more so that they too, can be spared? 
That is the simple truth. What are we going to do about it?
Dear Holy Spirit, 
Stir in each one of us the needed urgency to heed the warnings. Grant to us the wisdom we need in this day and age to be your witnesses. May we have the power to connect people, especially our loved ones and friends, with the love of Jesus. May the door of their hearts be opened to you so that they too, can come under the same covering and protection.
In Jesus' Name, we pray, Amen.
We are a Family Church that Cares
Daniel and Jeannie

每日甘霖
"你行走,脚步必不至狭窄。"(箴4章12节)
神从来不替我们预先建筑一架信心的桥梁来等待我们经过的,必须等我们走到那里,他才为我们开路;如果他先替我们建筑好了,那就不能称作"信心的桥梁"了,眼见的不能算作信心。
一个花园大门旁边有一种出口的小门。当我们行近那门的时候,它一点都没有变动。我们在它旁边站立一天,仍旧不见它打开一点。但是如果我们向前走去,门上的机轮,经了人体的推动,就会向左转动;这样,便给我们一个出口。
走信心的道路,也是如此。无论我们的拦阻是江河,是铜门,是高山,我们只要大着胆向前走去就是了。如果是一道江河,当我们脚一入水的时候,江河便会变成干地。如果是一扇铜门,当我们向前推进的时候,铜门便会自动开展。如果是一座高山,当我们奋勇前进的时候,高山便会倒入海中。
你的道路上现在有没有东西在拦阻你前进?你只要奉主的名向前走去,一切的拦阻都会冰消瓦解了。

New Sermon Series
UPPER EAST COAST CAMPUS


POWERHOUSE - The Engine Room of Our Church

1 John 5:14-15 (NIV)
"This is the confidence we have in approaching God: that if we ask anything according to His Will, He hears us. And if we know that He hears us—whatever we ask—we know that we have what we asked of Him."

One of the first things Jesus did after being baptised was to enter into a 40-Day fast in the wilderness. This period of fasting propelled Him into ministry that was built around prayer.

One of the core pillars of our church is prayer. As God's people, we have the privilege to have direct access to Him! Join us for our new sermon series as we seek to understand the true purpose and power of prayer and fasting in our daily lives!

28 June - 19 July (Sundays)
English Service — 10am // Chinese Service — 9am
Click here to access our services online!
EVERITT ROAD NORTH CAMPUS
Overcomer
"You, dear children, are from God and have overcome them, because the One who is in you is greater than the one who is in the world." - 1 John 4:4 (NIV)

We are faced with many unseen issues that can trip us up in this race we are running. Join us for our new series as we look at tackling some of the unseen issues that we all deal with. Through Christ, we can overcome all these attacks of the evil one!

7 June – 5 July (Sundays)
English Service — 10am
Click here to access our services online!

HEART FOR HIS HOUSE 心系祂的殿
1. Family matters
'40.Day 2020', an annual nation-wide prayer and fasting period dedicated to drawing near to God and seeking His Face, has started! 
Join the Body of Christ to intercede for loved ones, workplaces, community and nation. Make this time count for your generation and the ones to come!
Devotionals for each day will be released daily.  Next week, we will cover Days 6 - 12. Set aside time with your families to seek God, together!
The prayer guide will be published online at the 40.Day 2020 website:
https://lovesingapore.org.sg/40day/2020/
You may start accessing the prayer entries one day at a time, starting from 0001Hr on Wednesday, 1 July 2020.
English, Indonesian, Malayalam, Mandarin: 40.Day 2020
Family Altar Devotions via: https://lovesingapore.org.sg/40day/2020/ OR https://tinyurl.com/hfhdevos
2. Stay tuned every Tuesday for reflections through our Social Media handles:
Instagram: @emmanuelagsg   @25everitt
Facebook: facebook.com/eagsgonline   facebook.com/emmanuelateveritt
心系祂的殿(从家里开始,在家中尊荣你的父母/长辈)
1. 家!
每年,神召会以马内利堂都会鼓励大家一同的参与LoveSingapore 为国家40天禁食祷告,今年也不例外!今年的40天2020已开始!今年的主题是"从长远来看"。这将是一个聆听《希伯来书》信息的旅程。诚邀大家一同地踏上这旅程。也鼓励大家借此机会一同在家里建立我们的家中祷告的祭坛吧!
中文和英文版的祷告手册将会刊载在 40.天 2020的网站:
 https://lovesingapore.org.sg/40day/mandarin/2020/ 或 https://tinyurl.com/hfhdevos
每日从0001时起可以透过网站查阅 该天的灵修与祷告资料。
2.继续关注我们社交媒体,与我们一同观看每星期二的读经计划反思
Instagram: @emmanuelagsg   @25everitt
Facebook: facebook.com/eagsgonline   facebook.com/emmanuelateveritt
Alpha Course is back!
The Alpha Course is back and Online! If you know of anyone who has questions about God, Christianity, life, and faith, this is a safe space for them to share and ask without limits or judgement. Everyone is welcome to attend, so invite someone today! 
For more information or to register, you can visit: tinyurl.com/eagalpha

Dates: 5 Aug - 30 Sep 2020 (Every Wednesday) | Time:  8pm - 9.30pm 

Women Of Purpose (WOP)
Having purpose in life gives us direction, it determines the way we live. As we enter into different seasons in life, the challenge is for us to remain in the purposes and plans God has for us! Join Women of Purpose (WOP) for their upcoming Zoom Live session as guest speaker, Pastor Vanessa Wong (co-founder of The New Charis Mission) shares her personal journey and how to live life purposefully in and out of season!

For more details or to register, visit: tinyurl.com/wopjul20 (The link for the session will be sent out after registration)
Date: 11 July 2020 (Sat) | Time: 2-3:30pm 
Registration closes on 7 July (Tues).
Christian Education
Christian Education is back with Part 2 of Unashamed of The Gospel. Join us online as we continue to dive deeper into the Book of Romans and study the heart of the Gospel with speaker David Lim Han Hui, Academic Dean of ACTS Bible College! 

For more information or to sign up, you may do so at this link.
Dates : 4 July, 11 July, 25 July, 1 Aug, 15 Aug, 22 Aug, 5 Sep, 12 Sep, 26 Sep, 3 Oct  (Saturdays) | Time: 9am
Registration closes 27 July (Mon).
Get Involved
Serving God is more than just a weekly duty — it is a privilege! It is also an opportunity to forge new relationships as we build our spiritual home together. To learn more about how you can serve in the House of God, or to sign up, you can do so via the Info Desk or through https://tinyurl.com/Esvolunteersignup!

Follow us!
We post daily on our Socials so do continue to keep up with us and stay connected AS ONE!
Upper East Coast
Facebook: Emmanuel Assembly of God, Singapore
Instagram: @emmanuelagsg

Everitt Road North
Facebook: Emmanuel@Everitt
Instagram: @25everitt
Mondays: #prayermatters 60 seconds to pray together as an Emmanuel family
Tuesdays:  Family Altar Reflections
Wednesdays:  Sermon features
Thursdays: Pastoral Exhortations
Fridays:   #PTLs or Emmanuel specials
For the testimony of Christ is the spirit of prophecy   (Revelation 19:10b)  #PTLs (testimonies) to Praise The Lord declare victory over all our situations and give courage to one another to build our faith.. If you have any testimony to share, please contact us on 64455566 or email us at cmd@emmanuel.org.sg!
鼓励大家透过我们官方网站 , 面子书(Facebook) 与 Instagram 与我们联系
东海岸上段 
面子书 (Facebook): 神召会以马内利堂 
Instagram: @emmanuelagsg
艾弗烈路
面子书 (Facebook): 以马内利 @艾弗烈
Instagram: @25everitt 
我们会有以下的节目:
每逢星期一、三、五: 灵修资料
星期三:~居家代祷 , 以马内利家人们一同祈祷 ~居家运动
因为预言中的灵意乃是为耶稣作见证(启示录19:10b)
让我们宣告在基督里我们已得胜,我们可以放胆建立我们的信仰。如果您有任何见证想要分享 ,请通过64455566,或通过 cmd@emmanuel.org.sg 与我们联系!

Tithes and Offering
Giving is now made easier with 3 different ways you can give your tithes and offering!
1. SGQR Codes
How to give your tithes and offering using SGQR codes?
PICK and launch your preferred payment app, point your phone at the selected QR Code
SCAN the QR code and check that the party you are paying to is correct
ENTER the amount that you would like to give for your tithes and offering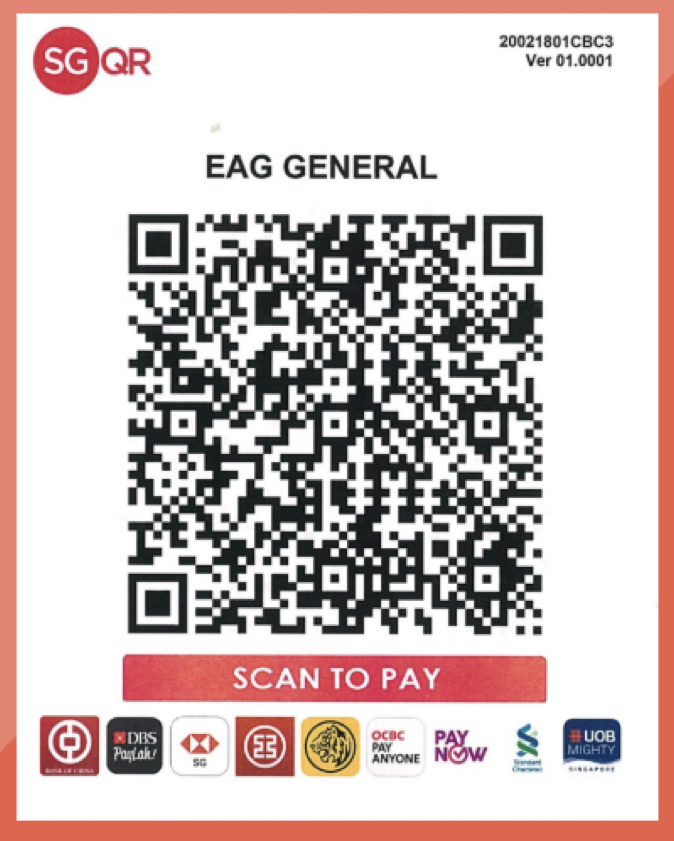 2. Electronic giving via iBanking.
E-giving offers convenience and even allows you to set up automatic recurring contributions at a fixed date. 
Here is the information for the different accounts we have:
Internet Banking/ATM Transfers
Tithes & Offering
A/C: Emmanuel Assembly of God
UOB Current A/C: 912-343-429-0
Missions
A/C: Emmanuel Assembly of God - Missions
UOB Current A/C: 451-305-854-8
Building
A/C: Emmanuel Assembly of God - Building
UOB Current A/C: 451-305-856-4

Other Bank Details
Bank Name: United Overseas Bank Limited
SWIFT Code: UOVBSGSG
Bank Address: 80 Raffles Place UOB Plaza, Singapore 048624
Bank Code: 7375
3. Cheques
Please mail your cheques to us at this address:
Emmanuel Assembly of God
165 Upper East Coast Road
Singapore 455266