Bulletin Message
Hi Church, a verse for us to ponder upon today in line with Vision 2020.
"Since we are receiving a Kingdom that is Unshakeable, let us be thankful and please God by worshiping Him with holy fear and awe." — Hebrews 12:28 (NLT) 
There are two parts to this verse for us to take a look at today:
a. Since we are receiving a Kingdom that is unshakeable,
In contrast to the instability of the world around us, the Kingdom of Jesus cannot be shaken, and we are receiving this Kingdom. Can we truly say and believe in our hearts that God is unshakeable?
Here's something to think about: the moment we hit a crisis in our lives, an unanswered prayer, a conflict… what is our response to our unshakeable God? Do we blame and isolate ourselves from Him, or do we go to Him in faith, regardless of the outcome of the oppression in our lives?
He is our stability in an unstable world. Griffith Thomas noted that the ancient grammar and phrasing indicates "We are constantly and perpetually (Greek) receiving a Kingdom that is incapable of being shaken." He has not only promised, but He has and is still fulfilling that promise to us.
b. Let us be thankful and please God by worshiping Him with holy fear and awe.
Are we a grateful or grumbling people today? Generosity comes from gratitude. Are we generous with our words, time, efforts, devotion to God and His church or are we calculative? Do we bring the values of our workplaces into His Kingdom or do we allow His influence and love to transform our beliefs?
Do we treat God / church as simply a scheduled time, hitting the minimum or do we dare to step out more and sacrifice because we are grateful that God has saved us? One of the dangers of being a long-time Christian is that we can rationalise our passion or efforts away. We think "It's okay, someone else can do it. I want to take a break."
There is no seniority in the Kingdom of God. There is only servanthood. Thankful people are great people to hang around; their attitudes always optimistic and attractive. They look to "infect" someone else and spread joy and love; they often seek to engage others and welcome them with open arms into this community.
Inward-looking people just sit and wait to be entertained or engaged. They view new inclusions into the community as a disruption to comfort. They tend to stay within their comfortable cliques and decide what commands are suggestions and what the minimum standards to hit are without getting into trouble.
Today, we believe God is speaking and challenging many of us once again. Being unshakeable isn't only standing strong when things happen. It is also about building a foundation that is deep intentionally; it is also allowing oneself to be shaken and be tested to see what truly remains in our lives and our hearts today.
"Glory be to God, our Kingdom cannot be moved! Not even dynamite can touch our dominion: no power in the world, and no power in hell, can shake the Kingdom which the Lord has given to His saints. With Jesus as our monarch, we fear no revolution and no anarchy: for the Lord hath established this Kingdom upon a rock, and it cannot be moved or removed." (Charles Spurgeon)
Let's believe 2020 will be an unshakeable year!
In His Love,
Pastor Alvin and Michelle Tay
Sermon Series
UPPER EAST COAST CAMPUS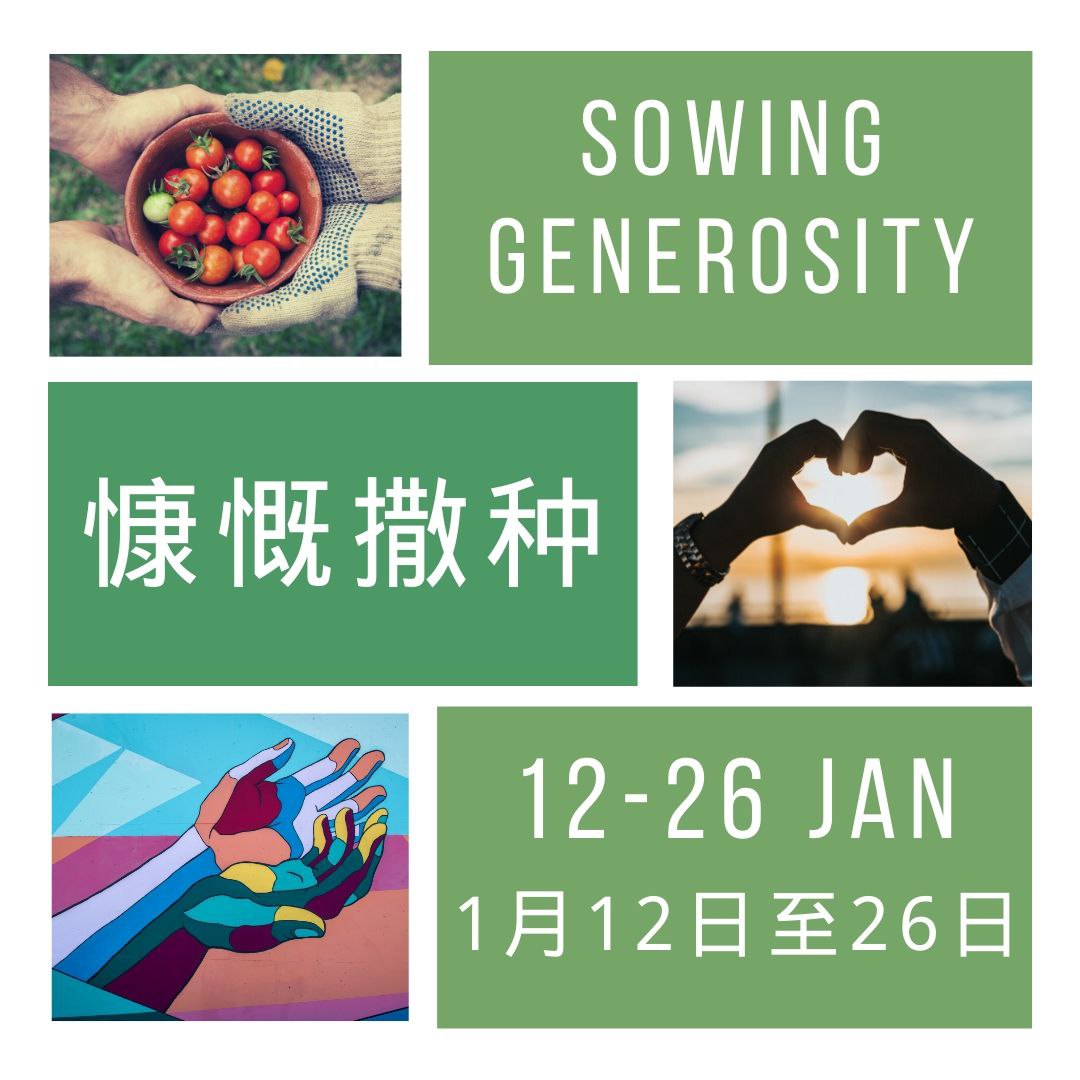 Generosity
Date: 12 Jan -  26 Jan (Sun)
English Service — 10:30am | Level 4, Sanctuary
Chinese Service — 9am | Level 3, Thanksgiving Hall
We have a giving God. In turn, that generosity lives in us too. Join us for our new series as we discover what causes someone to be radically generous with their money and resources!
EVERITT ROAD NORTH CAMPUS
The Jesus Community
Date: 5 Jan - 19 Jan (Sun)
English Service: 9am | Sanctuary

The Gospel brings people from all walks of life together. The church then forms the Jesus Community around the Gospel — the Good News we are to share with everyone. Join us for our new series where we'll explore Romans 12 to discover what we need to build this community. 
Church Office and Agape Hall Closure
Due to the upcoming Chinese New Year, please note that the Church office will be closed on the following dates:
24 Jan, Fri (12:30pm onwards) | 25 Jan, Sat | 27 Jan, Mon
In case of emergencies, you may contact 6445 5566.
Our weekly Services will run as usual on 26 Jan (Sun) for both our Upper East Coast and Everitt Road North Campus. However, the Kopitiam at the Level 1 Agape Hall (UEC Campus) will be closed on that day.
Celebrate CNY with Chinese Ministry
Join us for a Chinese New Year Celebration on 7 Feb (Fri), 7:30pm, at our Thanksgiving Hall (Level 3, UEC Campus)! Take this opportunity to join us together with your Mandarin-speaking loved ones and friends for an amazing time of bonding and fun. Guest speaker Pastor Elvis Yong from Renewal Christian Church will also be sharing the Word!
Explore life. Try Alpha.
Alpha is back and all are welcome to attend! This is a chance for all who have questions about God, Christianity, and the faith, to ask questions without limits or judgement in a safe space. Invite someone along and join us for the Introductory Dinner on 4 Mar (Wed), 7pm, at our Agape Hall (Level 1, UEC Campus)! Register via this link, or: 
(UEC) At the Info Desk/ QR Code on posters in the lifts.
(ERN) Sign up with Pastor Jireh.
Date: 4 Mar - 29 Apr (Wed) | Time: 7pm
Venue: Agape Hall, Level 1 (UEC Campus)
Retrace the steps of Apostle Paul
Visit the seven churches mentioned in the Book of Revelation and retrace the steps of the Apostle Paul to places like Athens and Corinth in this upcoming trip to Turkey and Greece! It will be happening in October, so plan ahead if you're interested. More details will be given soon!
Get Involved
Serving God is more than just a weekly duty — it is a privilege! It is also an opportunity to forge new relationships as we build our spiritual home together. To learn more about how you can serve in the House of God, or to sign up, you can do so via the Info Desk or through https://tinyurl.com/Esvolunteersignup!
E-Giving Convenience
Giving is now made easier by electronic giving via iBanking. E-giving offers convenience and even allows you to set up automatic recurring contributions at a fixed date.
Cash / Cheque: You can also give via cash/cheque and indicate the category of giving on the tithes and offering envelope.
Here is the information for the different accounts we have: